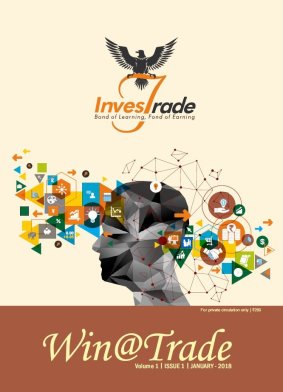 In our quest to equip traders with knowledge, ideas and experiences, Advanced InvesTrade Forum decided to take another step towards "The Art of Rhetoric - concept bonded to form" (Edie / Idea) and launched our Signature product "Win@Trade" in 2018. Markets are dynamic and so are we.
'As our Editor-in-chief, Shri Himaanshu Kansal, states "One Idea can change your life. The endeavour of the editorial team has been to provide the readers with plenty of simple and useful ideas. This issue has may inputs for the serious trader". The first sentence cannot be written till the final sentence is written. Read the full editorial message here.
The uniqueness of Win@Trade is that the knowledge shared is "Of the Trader, By the Trader and For the Trader". In our "Trader Writes Series", we covered a vide range of topics keeping simplicity, relevance and usefulness in mind:
Open Interest: The Long and Short of Option Trading (Jitendra Thacker)
Open Interest (OI) like Options Greeks is much quoted but not so much understood by a retail investor. In this article, the author focuses on study of Open Interest on Nifty to help us understand real time positions being built by market makers.
Click here to view the content page of the magazine.

Power of 50% Rule (Amardeep Singh)
As WD GANN says "Fortune can be made by following a single rule alone". In this article, the author demystifies GANN rule of 50% and shares his technique of trading the same profitably.
The Third Dimension (Vikas Baldi)
Going beyond Technical and Fundamental Analysis, in this article the author talks about the power of "Observation" to enhance and supplement your favourite stock picking techniques.
Using Japanese Candlesticks to you Advantage (Pinky Lapasia)
Learning is the gate, not the house. You first have to go through the gate to get to the house." Same way study the basics, master the patterns and only then start using it for your analysis. In this article, the author explains key candlestick patterns and how to trade them profitably in the Indian markets.
Time and Price Cycle (Ravish Kandhari)
Cycles of time and price can be broken into time cycles and price based cycles. In this article, the author shares the key aspects of important time and price cycles and time squares.
Triangle- A Reliable Pattern (Dhiren Bhatt)
Triangles are price patterns in conventional Technical Analysis that can prove to be quite reliable if identified early. In this article, the author goes into the nitty – gritty of symmetrical triangles - construction, identification and execution.
Harmonic Patterns (Jay Purohit)
Harmonic Trading is a methodology that utilizes the recognition of specific price patterns and the alignment of exact Fibonacci ratios to determine highly probable reversal points in the financial markets. In this article, the author explains the AB=CD Pattern and BAT Patterns in minute detail and how to trade them profitably.
BNWO – Trading Profitably (Amol Jain)
As new products gets introduced in the financial markets, it is impetrative for the astute trader to understand and incorporate the same into her trading arsenal. In this article, the author shares his techniques on trading BNWO profitably.
Managing your Trading Business (Shashank Gupta)
Why and How to think about trading as a business and how to manage your trading business. In this article, the author shares his 10 management principles to help manage his trading business.
Me and My Emotions (Darshit Parikh)
It is said that right psychology plays a vital role in trading success. It won't be an exaggeration If we allocate 70% to "Psychology" and the remaining 30% to the "Method" and the "System". In this article, the author talks about how to handle emotions successfully.
A Trader's Interview
OGTAAT, Risk Management Techniques, Trader's Metrics, How to prepare for the trading day… Surely as astute traders, all of us have questions relating to them and many more. Read Dr. Rajeev Shukla's (a winning trader, a voracious reader and much more) freewheeling interview with Shri Himaanshu Kansal.
Take out your pen and put your thinking cap on to try your hand at cracking the trader's only "Fun and Mind Stimulating Crossword". After all, it is said Confucius does his crossword with a pen. ENJOY!!!
Answers to Crossword